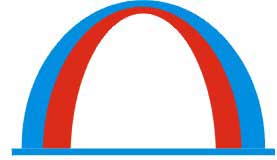 homepage
ClearDome Solar Thermal
Ingenious solar thermal and pure organic+ food growing products for everyday living, emergencies & survival

Click on the product page links below for more information and to order using PayPal-
---
Reduce high temperature summer solar heat gain on roofs, walls, cars, boats or tents with either of our two CoolTarps-- the coolest solar tarps made. Lightweight SolaReflexx CoolTarp (left photo) reflects over 95%
of the sun's heat and all of the light away from sunlit surfaces. It comes in an 8' width and can also be used to increase plant growth.

Snow White CoolTarp (right photo) is nearly as reflective, is thicker, stronger and allows a small amount of sunlight to pass through. Interior spaces stay much cooler with both. It comes in a 12' width by various lengths up to 350 feet long and can be secured on a flat roof with bricks or tiles, and with our pressure grommets or smooth edge board or pole.

---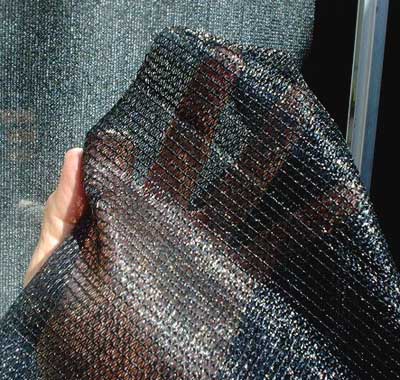 Turn sunlit windows into giant solar radiators in winter with our interior black see-through Solar Heating Drapes (left) to save on high winter heating costs.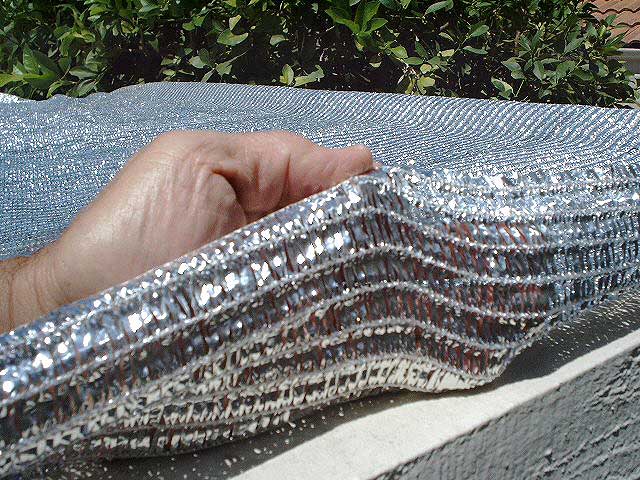 Or you can lay them flat on a sunlit floor near unshaded windows.
In summer, cool outdoor patio or camping areas, or reduce heat loss through windows in winter with our reflective Thermal Barrier Fabric (right). It's also a perfect plant frost or summer heat protector. For more details and to order click here: Solar Thermal Fabrics.com.
---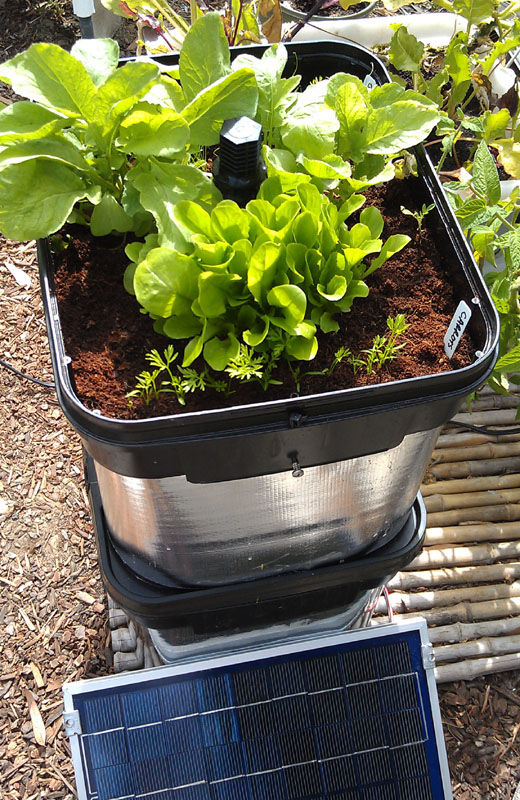 New! Solar hydroponic Veggie Garden2go pure organic+ food and medicinal

pot growing system for small sunlit and interior grow light spaces is easy to set up and use. It is the perfect grow-your-own companion to Tower Garden, below, and it grows a wider variety of edible foods including root plants like potatoes, carrots and beets, plus all types of leafy greens and herbs faster and healthier that nearly any other type of soil, hydroponic, or aeroponic growing system. Have a look at our ginseng and wasabi California growing challenge now in progress that's growing our Veggie Garden2go.

---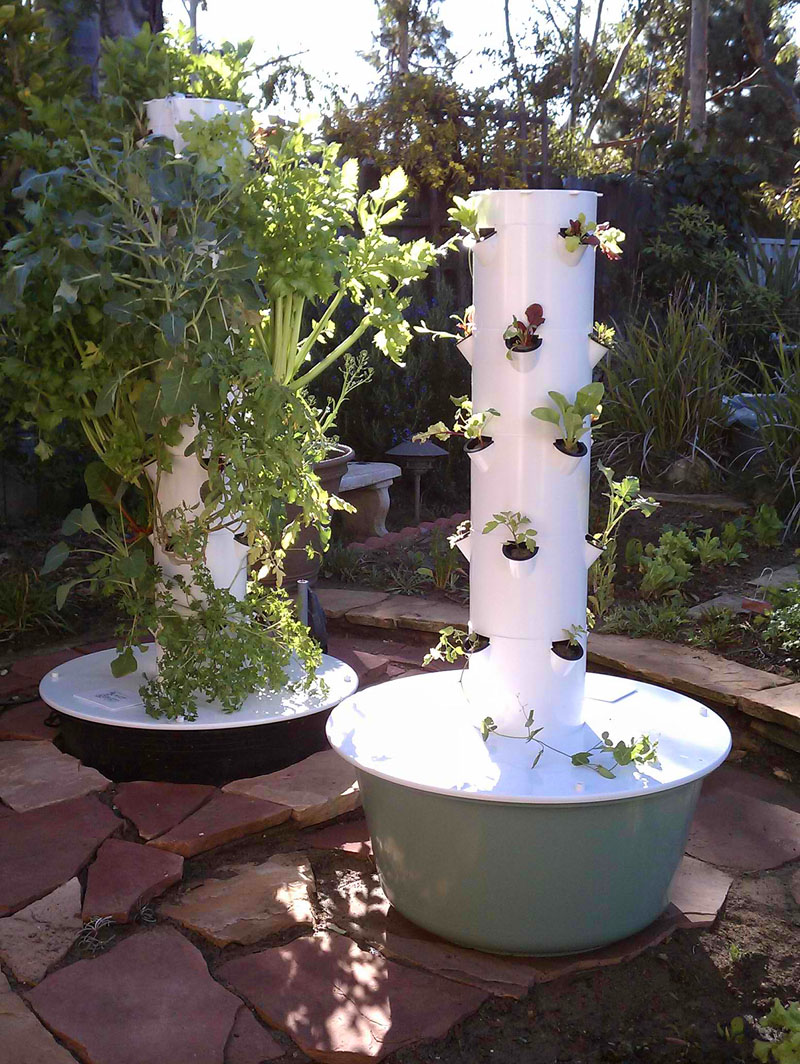 The amazing aeroponic vertical Tower Garden food growing system from Juice Plus+ Company uses no soil or growing medium. Like the Veggie Garden2go,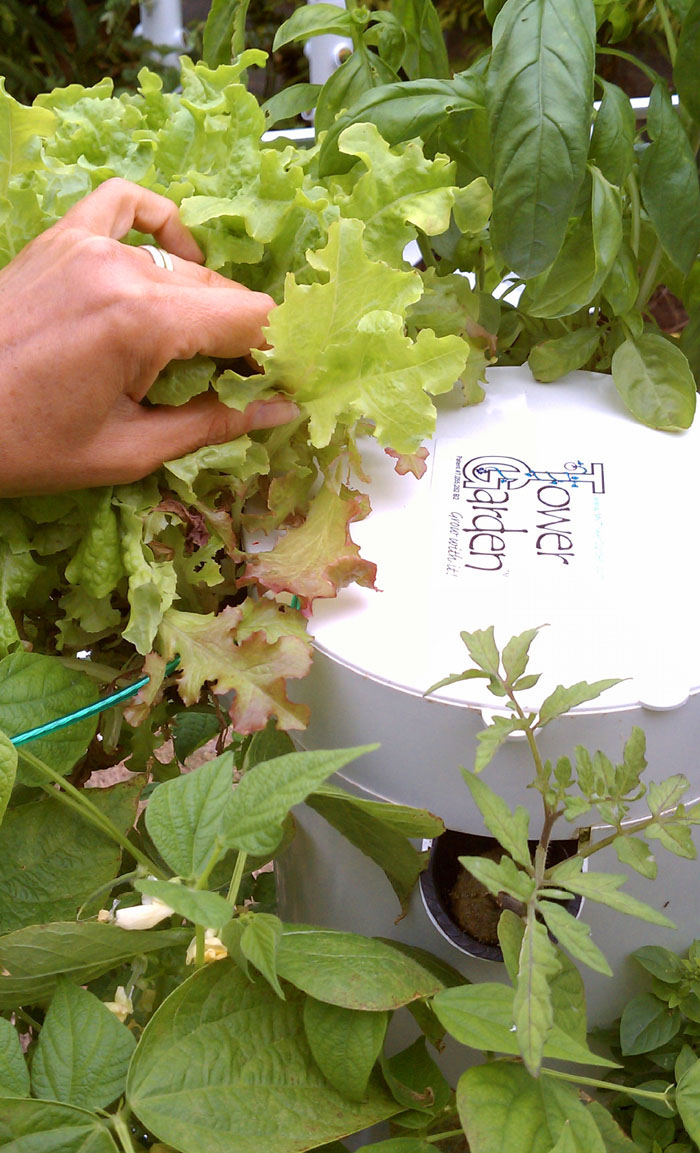 it uses pure, natural Tower Tonic mineral plant nutrients for the healthiest, tastiest home-grown foods that grow up to 60% faster with higher levels of nutrients than field grown plants. It is the most advanced and most popular growing system made and it is easy to set up and use outdoors or indoors with grow lights. Have a look at the new delicious veggie eye candy photo gallery in our delicious living edibles album of food plants grown in Tower Garden and Veggie Garden2go.

---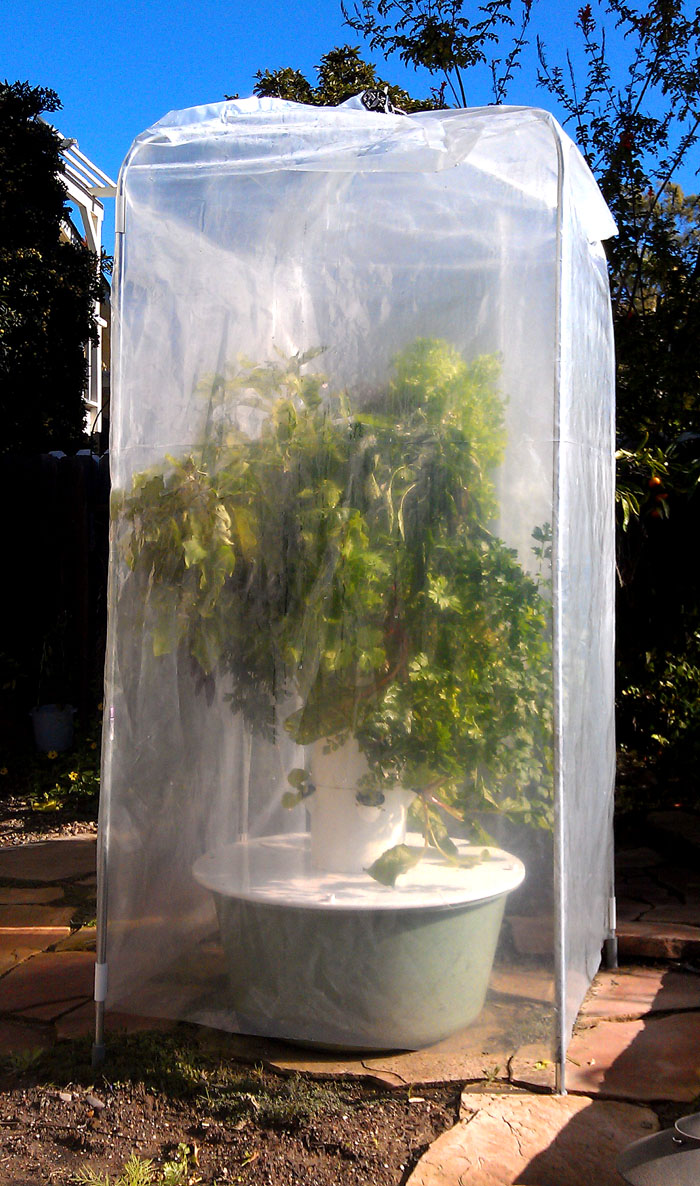 To extend your Tower Garden or Veggie Garden2go growing seasons, click here to jump to our Towergardener.com web page to learn more about our unique season extender and plant protection accessories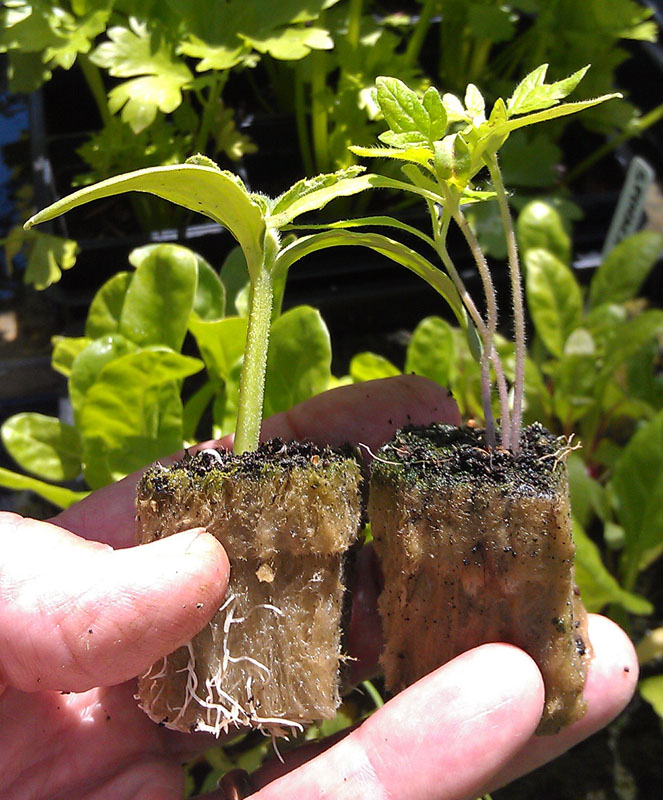 like the durable Tower Greenhouse (left), solar thermal fabric, solar powered pump kits and more. To accelerate growing your food plants please visit our edibleseedlings.com web page for a wide variety of seasonal organic/non-GMO Tower-ready seedlings that can be picked up in San Diego, California or mailed in the USA.

---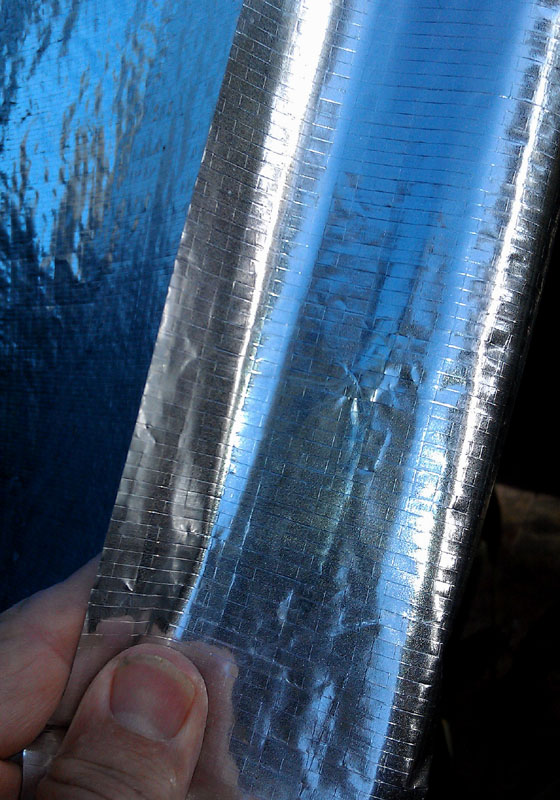 Generate the fastest, hottest solar heating, cooling or solar cooking with our upgraded SolaReflexx diffused solar reflector foil that comes in a two, four and eight foot width and is weather resistant. This upgraded diffused foil reflects over 95% of the full spectrum of sunlight and also works well for increasing food plant growth, daylighting to send sun light indoors, and for photographic uses. On the same page also have a look at our top-rated mirror surface SolaReflex AA Panels for solar thermal heating concentrators or daylighting uses.

---
---
As more states allow medicinal and recreational pot use, everyone is looking for ways to reduce the high $300 to $400 per ounce price tag, so why not grow your own marijuana at home? It's easy to grow up to 6 full size pure organic+ plants in small spaces indoors or outdoors using pure natural nutrients in our hydroponic Veggie Garden2go compact growing system. You don't need a green thumb and very little maintenance is required. Have a look at these five valuable tips for growing pure pot at home.
---
Our second generation personal Dome Solar Still Water Purifier/Pasteurizer, left, will soon be replaced by a 3rd generation still that is in the prototype testing stage. It will be portable and should produce more pure water than previous solar stills. To read more about our older previous generation personal solar distillers please click here and you'll read about all the benefits of ultra purifying nearly any type of source water into delicious drinking water using only the evaporative power of the sun.
---
Reduce high winter heating costs by using our highly efficient, sun-heated sixth generation Building Integrated Solar Forced Air (BISFA) heating panels. They are mounted on south facing walls by an installer and come in three sizes. Please note: All sizes are now in short supply, so please check first for availability before ordering.

---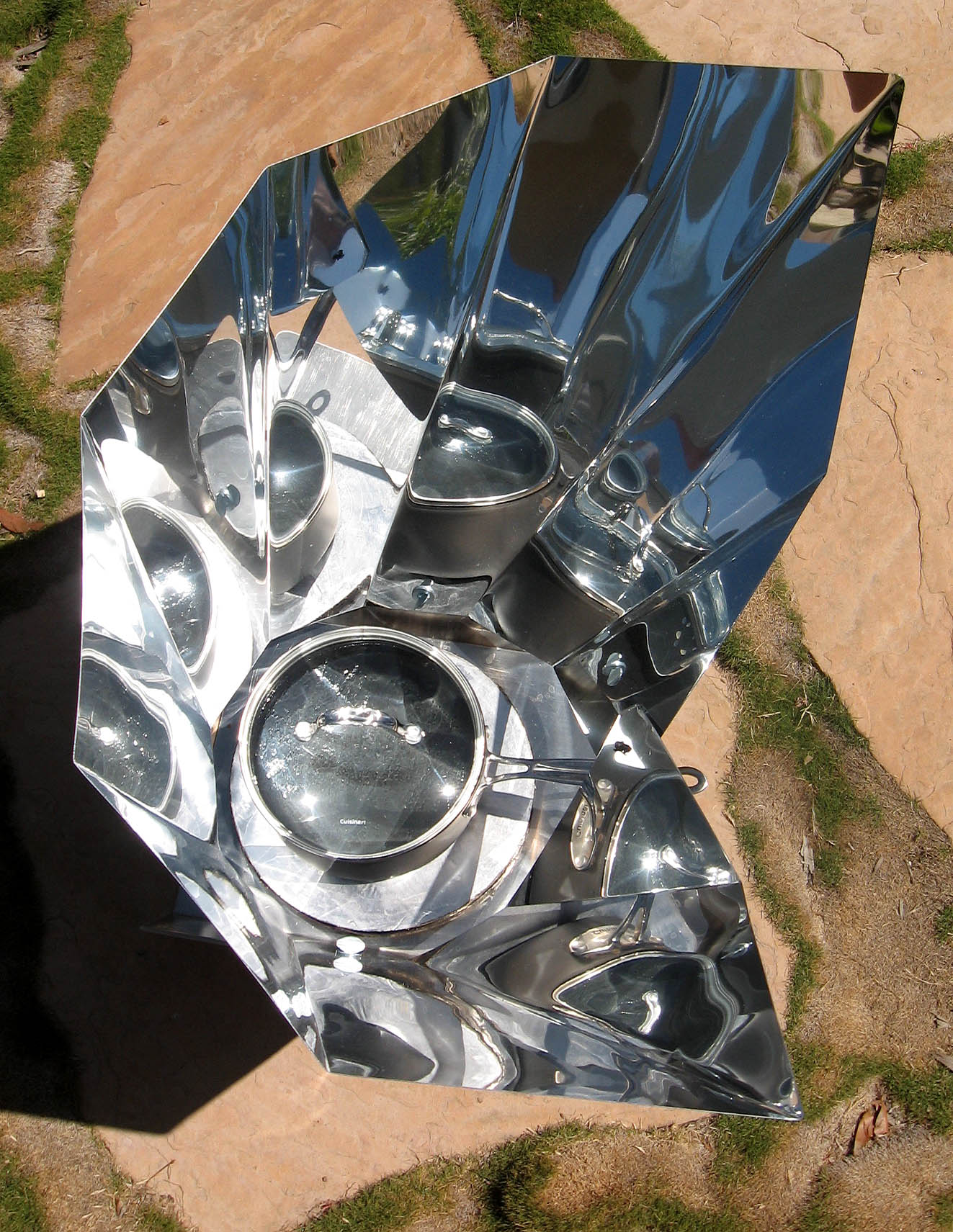 Our lightweight, wind resistant SolaReflex Octagon Parabolic solar cooker is fast cooking and needs little or no sun adjustment while cooking. It is very durable, weatherproof and is one of the top rated solar cookers made that will cook family meals, bake bread, brown meat and Pasteurize water in only 45-90 minutes on sunny days. They are presently in short supply, so check availability before ordering.
---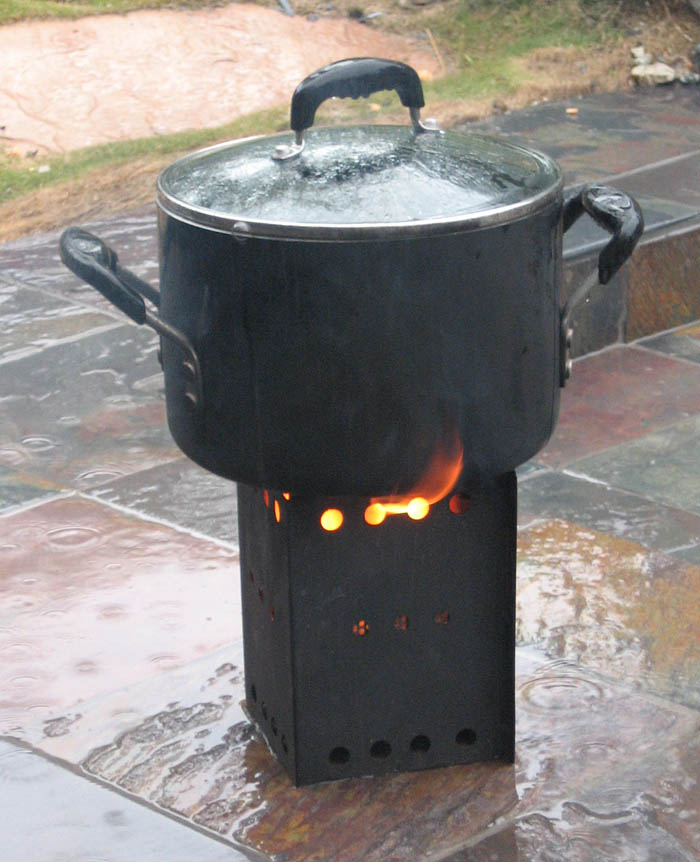 And when the sun goes down, or it's a cloudy and cold day, here's the perfect alternative dry biofuel cooker that uses a waste product--compressed sawdust pellets-- for very fast, clean, and hot cooking. It's called a Wood Pellet Camp and Survival Stove, it is wind resistant and even cooks on light rainy days, as seen on the left. You can read more about it and see photos of it own our webpage. This is a special order item.

---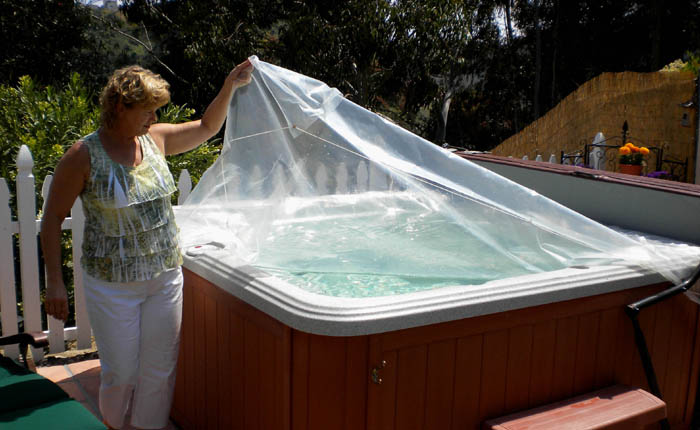 This lightweight, durable ClearDome Solar Water Heating Film is designed for full sun exposed home spas or pools 8' and smaller. The special UV-resistant, long life film covers the entire pool or spa over the edge and floats on top of the water to allow solar energy to pass through and warm the water 10-15 degrees or more every sunny day while trapping the heat by preventing evaporation. It turns the water into a giant solar heat absorber and reduces heating costs by up to 95% in summer months.
---
---
Click on the product pages below for more information and to order-
New! Veggie Garden2go Solar Hydroponic food/pot growing system · Aeroponic Tower Garden food/herb growing system · Tower Garden solar/season extender/solar/plant protection accessories and edible organic seedlings · 5 easy grow-your-own tips · SolaReflex and Snow White CoolTarps for cool roofs, walls, indoor growing · Heating drapes/Thermal barrier fabric · BISFA (solar forced air) heating panels · Solar Still for pure drinking water · SolaReflex AA Octagon Parabolic solar cooker · SolarReflex 97% diffused reflector foil · SolaReflex AA 95% mirror reflector and daylighting panels · New 3rd Gen. Spa/pool Water Heating Film · Lightweight Wood Pellet Biofuel cooker



---

ClearDome Solar Thermal
© 1999-2015, ClearDome Solar Thermal, 3268 Governor Dr, #153, San Diego, CA 92122 U.S.A.
619/990-7977
The address above is our mailing address. Please call or write to make an appointment for product demonstrations or to pick up seedlings.
deris@cleardomesolar.com

1/18/15