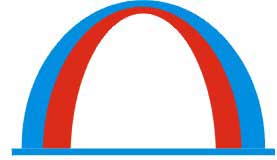 www.cleardomesolar.com
Outdoor biofuel cooking product now available from ClearDome Solar Thermal. . .
Fast Cooking Wood Pellet
Camping and Survival Biofuel Stove
Uses low cost, clean burning wood pellets made from a waste product: compressed sawdust
---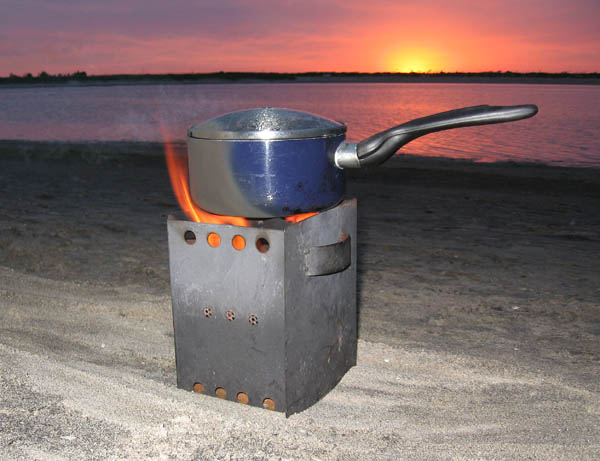 Many solar cooking, camping, survival and outdoor enthusiasts that solar cook have likely heard of our top-rated, fast-cooking SolaReflex AA Octagon Parabolic solar cookers shown below on the left.

But we decided to respond to a very common question asked by them and many people that don't yet own a solar cooker: How do you cook or Pasteurize water outdoors at night or on overcast or stormy days in remote areas without the sun? How about a dry biofuel portable cooker?

After nearly two years of experimentation, trial and error and a little luck, we finally invented the perfect answer. Instead of using expensive and polluting charcoal, wood cut from a forest, or non-renewable gas or oil, we've discovered a unique way to use a waste product that would otherwise be hauled to the dump or dug into the ground.

This unique solid fuel is called compressed wood pellets, and to learn more about them and how they are used, please click on these two links: please click here for the USA Pellet Fuels Institute. And for good general information about wood pellets please click here. You'll notice that very little information is included about portable pellet cookers because until recently, the term "pellet stoves" has only referred to home heaters that use wood pellets as fuel. The introduction of our lightweight portable pellet cooker that does not use a fan is a new innovation.

The sunset beach photo above, taken at Mission Bay Park San Diego, California in shows our prototype Wood Pellet Camping and Survival Stove cooking a quart of chile beans on the sand. We made the small carrying handle on the right side of the stove larger in the first production cookers, shown below. Also notice that the right side with the handle does not have vent holes because this side faces the wind to reduce wind disturbance when cooking.
Here's the ideal way to keep on cooking, baking, and Pasteurizing water long after the sun goes down, or during a major emergency or in developing nations where fuel is scarce or too expensive.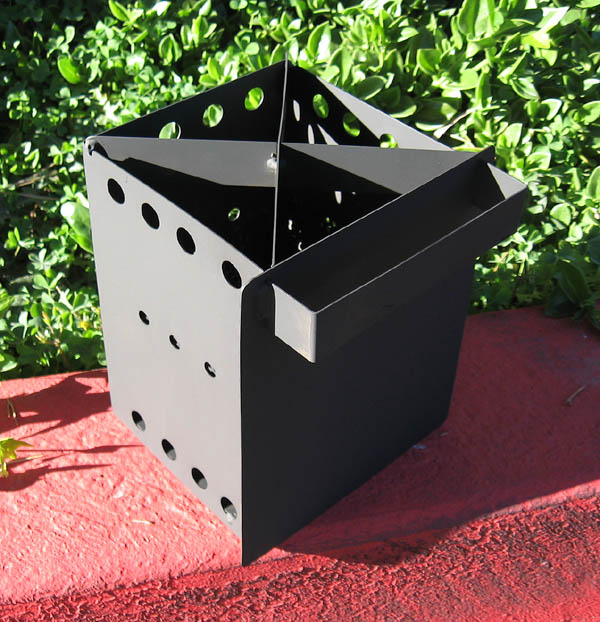 It's also perfect for use at home in any season or temperature, on picnics, camping and backpacking trips because of the small size and portability.
This very durable wood pellet cooking stove is not like the large, expensive pellet stove home heaters and small cookers that require wall or battery power for the fans, and computerized controller that tells an motorized auger how fast to feed pellets into the fire. Since ours needs no power, fans or auger it's more reliable in the most remote and extreme locations where no external power is available, and boils a quart of water in about 7-9 minutes with only one cup of pellets or two to three quarts in 12-15 minutes with only two cups of wood pellets once it's at full flame.
It also cooks on light rainy and windy days, shown in the photo below, on right. It only weighs two pounds and measures 5" by 7" tall but cooks nearly as fast and as hot as any conventional gas stove. It is very sturdy and can actually support over 150 pounds, so you'll be able to pellet cook for many years. We even have a collapsible verson for backpacking and hiking trips that weighs about two pounds. It collapses nearly flat to less than 1", shown in the photo below, and like the non-collapsible version, will burn pellets and nearly any other type of dry fuel listed below in just lightly more time.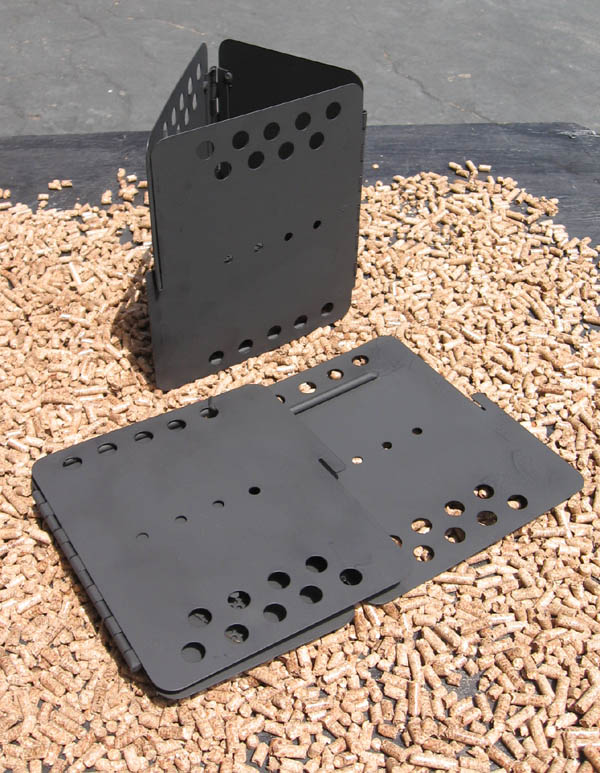 This the first commercially produced portable wood pellet cooker in the world that does not require fans and a power supply to properly burn the pellets.
---
---
Note: Before placing your order, please check for product availability.
Sorry, our collapsible Wood Pellet Cooker is temporarily unavailable.
---
ClearDome Solar Thermal product designer Deris Jeannette designed this simple, but hot and fast burning portable stove to make it's own controlled self- convective air flow through the bottom and sides for the most desirable temperatures and air flows specifically for cooking. It will cook from one to four quarts (liters) of food with only one load of pre-measured (1/2 to 2.5 cups) wood pellets. Once the pot is on the heat, you won't need to stoke the pellets are add more unless you're cooking or boiling over a gallon of water. The larger the pot, the more pellets or other dry fuel you add to extend the cooking times. The large pot in the rainy cooking photo is a two gallon stock pot, and we added another load of pellets to keep the fire burning.
Also burns dried bamboo, small twigs, scrap wood, seeds and more!
And if you run out of wood pellets, it can also burn pieces of bamboo (seen in the right photo, just after being lit with a fire starting square), dried branches, twigs, fruit pits, seeds and shells like sunflowers, peanuts, and pistachios, small pieces of scrap wood, and charcoal briquettes but it's not as efficient or as hot and it usually smokes more.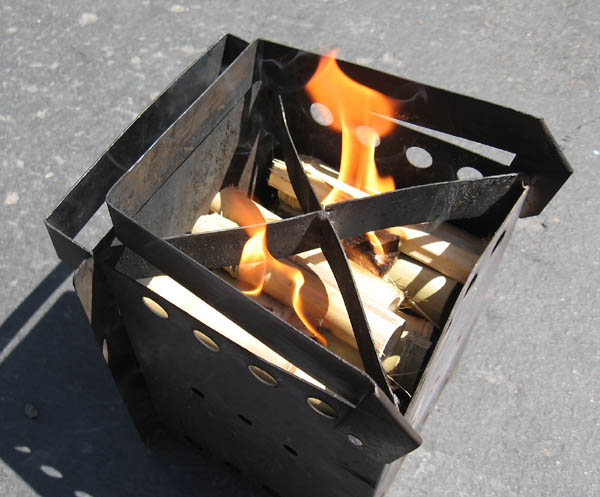 In the photo, notice the de-smoking metal riser in place at the top of the cooker that is used when bamboo or uncompressed wood is burned. It allows more air to mix with the flames to reduce or eliminate excess smoke. When pellets are burned, it swings out of the way and the cooking pot sits directly on top of the metal support cross. Two and a half cups of compressed wood pellets (a full load for this stove) will boil or Pasteurzie a gallon of water or food in 30 minutes, and slightly longer on light windy days.
To boil an equal amount of water or cook food with uncompressed wood, you'll need 2-3 times more pieces of small cut wood or twigs, and you'll need to add more wood pieces every 10-15 minutes to keep the flames burning. About 1 quart of unprocessed wood or bamboo will boil a quart of water, which is one full load in the cooker, as shown in the photo with bamboo burning above. It's is about half or more as dense as wood pellets, so it burns quicker and has less BTU per mass. Dried bamboo is our second favorite choice of biomass dry fuel because it's the fastest growing plant, is lightweight and cooks as fast and hot (1500 degrees F) and almost as clean as wood pellets. It's very easy to grow and cut into 4" pieces that will fill the stove with ample heat.
Charcoal briquettes are slower to light, smoke a lot, and take longer to generate full heating temps after 20-30 minutes, but once it's a full glowing red heat, lasts 2-3 times longer than the pellets at full heat, but cooks food or boils water in about 2-3 times the amount of time as wood pellets since the flames are small or not at all. We've even cooked meals using dried sunflower seeds and peanuts! They tend to smoke more because of the oils, but they are hot burning. After your meal is cooked, enjoy eating it near your mini contained campfire inside the pellet cooker by slowly adding small amounts of pellets or little pieces of scrap wood or twigs with the pot removed.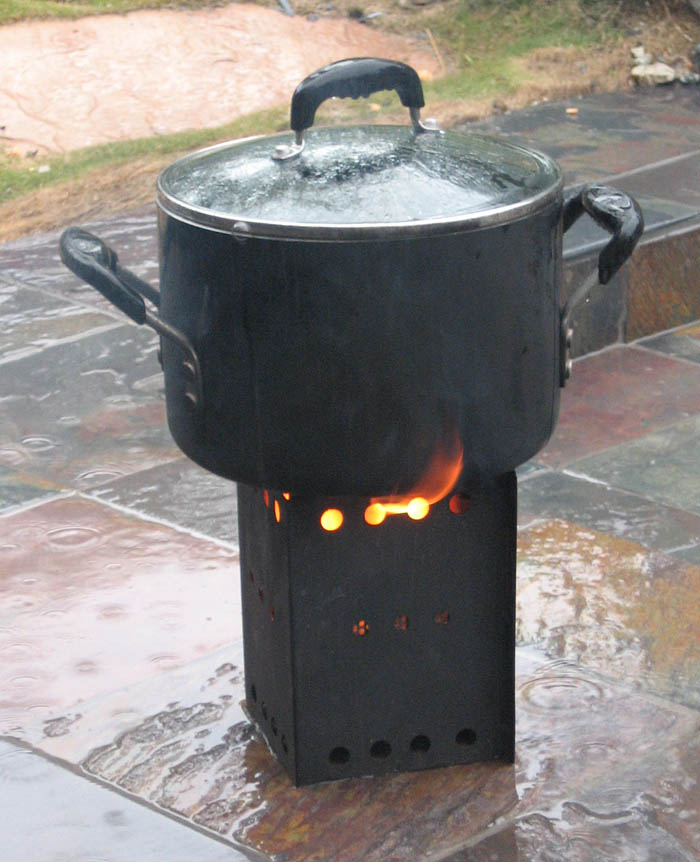 It's still far more efficient, less polluting, and safer for cooking than an open camp fire. And because the heat is concentrated in the area directly below the pot, most of the heat is directed upward and right to the pot bottom so less fuel is needed. Normal hard wood pellets burn at about 1,500 degrees F in our stove, while scrap wood and twigs are about 300-400 degrees cooler, and much sootier. By the way, a 10 pound bag of pure wood pellets (with no additives) from us will cost $7.95 and will cook about 30, 1-2 quart meals! We will include a 10 pound bag of wood pellets with every pellet cooking stove order. Larger 40 pound bags of pellets can be purchased online, or at many local BBQ stores, some home supply stores and Pellet Stove stores in colder regions. Prices range from $8-$19 per bag.
It will cook potatoes, pop popcorn, bbq delicious steaks in pans in only 15-20 minutes, wok veggies, chicken or fish, and cook perfect rice or pasta every time. It easily Pasteurizes two gallons of water with one cooker, and when two stoves are positioned side by side, the heat output is doubled, so it will Pasteurize two to four gallons even quicker.
Pasteurizing water kills any harmful microbes that can harm you at 140 degrees F in 30 minutes, or 160 degrees in 30 seconds. The water does not need to boil for Pasteurization. And it will distill small quantities of any type of foul or salt water, and can be used to distill spirits such as transforming wine into brandy. For larger quantity and faster distillation, have a look at the H20 Labs home still, below.
---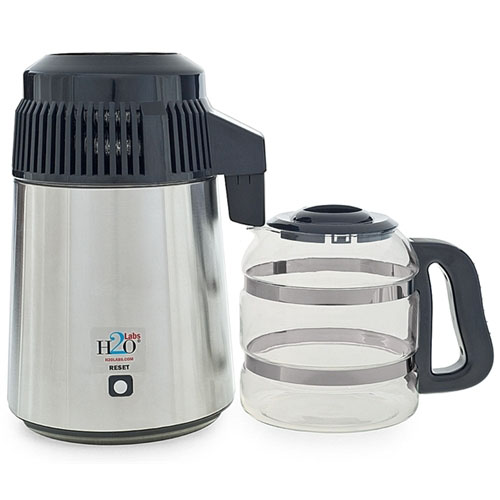 We have recently become an affiliate of H2O Labs, the leading manufacturer of a full line of ultra pure home drinking water distiller/desalinators including the top-rated Model 300 SS Desktop Home Distiller , shown above, and larger commercial size stills. Click the ad below for more details and to order. Worldwide shipping is available from the USA or UK.


It purifies most foul water, including ocean or lake water, into delicious drinking water that tastes as good as solar distilled water. It's much faster than solar, as it can distill a cup of pure drinking water in only 20 minutes, a gallon in 5-6 hours, or four gallons in a 24 hour day for about 30 cents per gallon. It's ideal for everyday use at home or work, and for most emergency situations when there is no safe drinking water available. Sale prices start at only $149.
---
Regulate heat with amount of pellets used
Our new Pellet Camp Stove needs only 1/2 cup of wood pellets to cook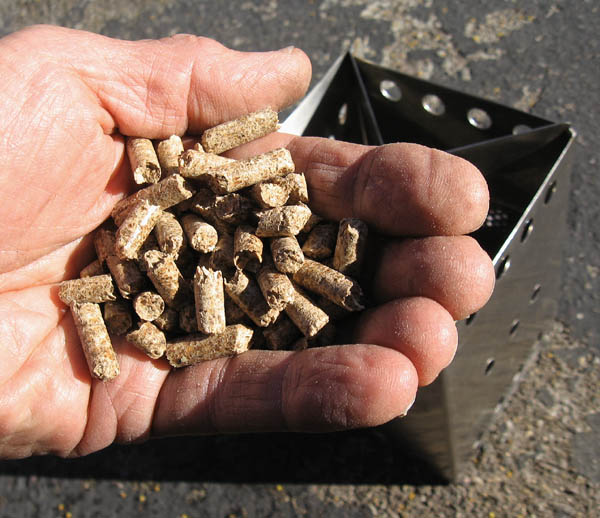 eggs or a meal for two, a cup to boil 1-2 quarts (or liters) of water or food, or 2.5 cups to cook a 3-4 quart large family meal, which will normally take about 30 minutes. More pellets (seen in photo on left) can be added after cooking is underway to extend cooking times. Wood pellets are so hot, they take half as long to cook with, compared to uncompressed small wood pieces, and they burn much cleaner and hotter since they are made of pure sawdust from good quality wood that has been pre-dried and compressed--with no additives.
Instead of hauling sawdust off to landfills, it's processed and made into a high quality dry biofuel product. That way, more trees and plants don't need to be cut down, which helps the environment and does not increase global warming because they are carbon neutral. When fully burned, the amount of remaining ash is tiny at less than 1% of the bulk of the unburned pellets, so they are easy to toss into the garden as fertilizer. The ash is more like a fine powder.
Questions? Click here and ask for Deris, the product inventor: deris@cleardomesolar.com
Please return to our homepage for more information about our BISFA solar forced air heaters, parabolic cooking reflectors, thermal fabrics and other innovative solar thermal products.
---

ClearDome Solar Thermal,
??1999-2014 ClearDome Solar Thermal, 3268 Governor Dr, #153, San Diego, CA 619/990-7977
http://www.cleardomesolar.com/
cleardomesolar@sbcglobal.net


1/19/14